"Horsie-land was becoming all a little bit too much for her…"
In B
ook Two of Pony Tales, Jenny finds herself in the capable hands of Mark, her guide and tormentor for the day. She becomes accomplished in the art of crawling, gets an eye-opening tour of the facility and suffers regularly with the pain of orgasm denial. Finding herself at the mercy of his fingertips, when he demonstrates the complexities of breath play, she panics that each gasp of air may be her last.
Displayed, touched, fondled and at the mercy of others, Jenny begins to discover what life as a pony girl might entail, especially when faced with the wicked tongues of several pony boys! Getting acquainted with the rather aptly named Red Room and finding herself subject to a thorough spanking is her first discovery into the delicious world of pain and pleasure that awaits her.
But there are far more devilish torments than spanking to be found at the Albrecht stables…
ebook, 46 pages
Published August 7th 2013 by Chimera Books
Genre: Erotica, BDSM, Adult Fiction
***Warning, this novella contains adult content of a sexual nature. What's It About?
Master Mark has a fondness for disobedient ponies, and he gets his fill with new trainee, Jenny. In this installment of Pony Tales, Jenny gets a tour of the hotel, which includes an exercise room, a training room, the red room, and to her horror, the dungeon.
Demeaned and humiliated, Jenny finds herself both wanting revenge, and feeling aroused, but never getting the release she craves…
My Thoughts:
With chapters like, 'Punished, Displayed and Tormented,' you know what you are getting into. And like Pony Tales Book I, The Riding School, it bothered me that Jenny was, again (for the most part), an unwilling participant.
What this series boils down to is a rape fantasy. I get that there is a small audience who enjoys this type of book, but for me, I need everyone to be willing. Otherwise, I feel like I am reading a true-crime/non-fiction. –And I've read plenty of those! I can't picture Master Mark as Mr. Sexy Alpha Male… I just, can't.
In this installment we get Master Mark's POV, mingled with Jenny's. In some instances, the author alludes the reader into believing that he might actually be falling for Jenny.
But here is the thing, despite being shelved as an "erotic romance", and a "romance", it most definitely is not. Honestly, that is downright laughable. The Pony Tales series is pure kink, 100% erotica, and nothing less.
Recommendation:
This novella is  18+, and not recommended for the prude.
Women who enjoy 'pony play fetish', or reading about 'pony play' would enjoy the Pony Tales Series.
Rating:
***In the interest of full disclosure, I received an e-copy of Learning The Ropes, in exchange for a fair, thoughtful, and honest book review.
Purchase:
Interested in the Pony Tales Series? Purchase book II, Learning The Ropes, here!
About The Author: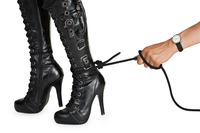 Christina Mandara was born in the UK, but has spent most of her life travelling the world. She speaks three languages and has been chiefly employed in the fields of finance and travel. Her favourite city is Sydney and her favourite holiday destination is the south of France.
She loves keeping fit and enjoys running, cycling and water sports. No, not those kinds of water sports; think surfing or sailing. That doesn't mean that she doesn't enjoy BDSM in all of its glorious forms, be that pony girls, bondage, edge play, orgasm denial or a damn good spanking. Her favourite item in the toy closet (a box simply isn't big enough) is her riding crop.
In her spare time she's usually cuddled up with a good book, exploring the countryside or baking in the kitchen. In fact, she loves her kitchen so much she's one of few woman who wouldn't mind being tied to it! Her first and foremost love is writing, however, and more often than not you'll find her on a laptop spinning tales of romance, erotica or dark, paranormal fantasies.
Those in the BDSM world might wonder whether Ms Mandara is a top or a bottom. Is she currently training a herd of pony boys or is she stabled up, in full leather tack, with the pony girls? It's a good question. Answers on a postcard please or try and figure it out yourself by visiting Ms Mandara's blog: www.christinamandara.wordpress.com