Where Confide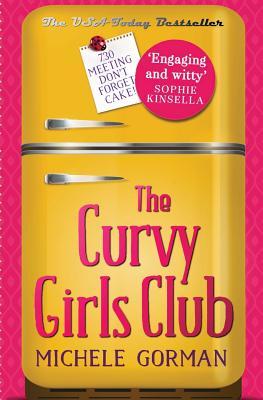 nce is the New Black.
Fed up with always struggling to lose weight, best friends Katie, Ellie, Pixie and Jane start a social club where size doesn't matter.
It soon grows into London's most popular club – a place to have fun instead of counting carbs – and the women find their lives changing in ways they never imagined.
But outside the club, life isn't as rosy.
"This is a delightful book of friendship, acceptance, and belonging for anyone who has ever wondered: "What if?" –Publishers Weekly
Paperback, 386 pages
Published April 24th 2014 by Createspace
Genre: British Literature, Humor, Women's Fiction/Chick Lit

What's It About?
The Curvy Girls Club, by Michele Gorman, is a novel abo
ut four woman who meet every week at their weight loss club, The Slimming Zone. One day, they make a group decision to skip out on The Slimming Zone, and instead go do something fun. Eventually, it catches on and becomes a business, and the girls are organizing events for 50+ people! The club becomes an escape, not only from dieting, but from their tumultuous personal lives.
My Thoughts:
I was delightfully charmed by Katie, Ellie, Pixie, and Jane and wished they were MY friends! I cannot say enough good things about this splendid story, and the characters within it.
I enjoyed this book because it touched on real issues that women face, and dealt with those issues with humor. Katie, the main character, is hilarious! I enjoyed her point of view.
I love the idea of a "Curvy Girls Club"; a club where women who are plus- sized can feel that they are among friends, and do fun things. I think that Author Michele Gorman had a neat idea to base her women's fiction on this.
I believe that women of all shapes and sizes can take away something positive from this book. The underlying message of The Curvy Girls Club is to love your body and yourself!
Recommendation:
I would recommend this novel to women who enjoy stories about friendship. loaded with lots of humor.
Rating:

***In the interest of full disclosure, I received a paperback copy of The Curvy Girls Club, from Avon UK. in exchange for a thoughtful, fair, and honest book review.
Author Michele Gorman, have your cupcake!!! 😉
Purchase:
About The Author:


"I write romantic comedy, including SINGLE IN THE CITY (the first in The Expat Diaries series) and BELLA SUMMER TAKES A CHANCE. Born and raised in the US, I lost my heart to London 16 years ago, where I've lived ever since. I've also turned my hand to upmarket commercial fiction under the pen name Jamie Scott."