Book Review of Witch's Cursed Cabin, by Author Marsha A Moore
Eager to be on her own away from home, twenty-year-old Aggie Anders accepts a relative's invitation to live in Coon Hollow Coven. Although she's a witch from a different coven, what locals say about the Hollow confuses her. How can witchcraft there live and breathe through souls of the dead?
Aggie's new residence in this strange southern Indiana world is a deserted homestead cabin. The property's carriage house serves as the coven's haunted Halloween fundraiser. It's a great opportunity for her to make new friends, especially with the coven's sexy new High Priest Logan.
But living in the homestead also brings Aggie enemies. Outsiders aren't welcome. A cantankerous, old neighbor tries to frighten her off by warning her that the homestead is cursed. Local witches who practice black magic attempt to use their evil to drive Aggie away and rid their coven of her unusual powers as a sun witch.
Determined to stay and fit in, Aggie discovers not only that the cabin is cursed, but she alone is destined to break the curse before moonrise on Samhain. If she fails, neither the living nor the dead will be safe.
Series description:
The Coon Hollow Coven Tales series is about a coven of witches in a fictitious southern Indiana community, south of Bloomington, the neck of the woods where I spent my favorite childhood years surrounded by the love of a big family. The books are rich with a warm Hoosier down-home feel. There are interesting interactions between coven members and locals from the nearby small town of Bentbone. If magic wasn't enough of a difference between the two groups, the coven folk adhere to the 1930s lifestyle that existed when the coven formed.
A note to readers: the books in the Coon Hollow Coven Tales series are written to be read in any order. The series is about one community, and its residents may pass in and out of various books, but each book has its own unique and special story to be told.
Kindle Edition
Published April 27th 2016
Genre: New Adult, Paranormal Romance, Urban Fantasy
305 Pages
What's It About? "Witchcraft of Coon Hollow lived and breathed through the souls of the dead."

Aggie is a sun witch with haptic sense who moves out of her parent's home to find herself. Upon moving into a cabin, she learns it is haunted by ghosts of witch kin and their talking animal familiars – including a banshee tied to the house who could put her in real danger!
Will Aggie be able to break the black magic curse? And as an outsider living in the homestead, will the witches of Coon Hollow accept her presence?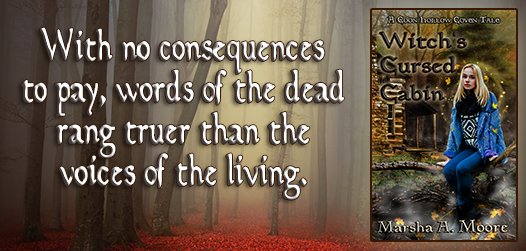 My Thoughts
I'm really loving the Coon Hollow Series! I like the new adult theme and the witchcraft lore of these books. There is also a subplot of romance for those who love the endorphin rush of a happily-ever-after!
Aggie was such a great character. I really enjoyed reading about her adventures in Coon Hollow. The romance in this novel wasn't as strong as book 1, making this book more of a female-driven novel. Aggie was no damsel in distress!
The world building was vivid and absolutely fantastic. When you read a book by Author Marsha A Moore, be prepared to escape into her fantasy worlds. I love her writing style.
Overall, I would highly recommend this series to fans of paranormal romance focusing on witchcraft. 5 stars!
In the interest of full disclosure, I was given a copy of this novel, in exchange for a fair, honest, and thoughtful book review. This in no way swayed my opinion nor rating.
Purchase
Amazon, USA
About The Author
Marsha A. Moore loves to write fantasy and fantasy romance. Much of her life feeds the creative flow she uses to weave highly imaginative tales.
The magic of art and nature often spark life into her writing, as well as watercolor painting and drawing. She's been a yoga enthusiast for over a decade and is a registered yoga teacher. After a move from Toledo to Tampa in 2008, she's happily transformed into a Floridian, in love with the outdoors. Marsha is crazy about cycling. She lives with her husband on a large saltwater lagoon, where taking her kayak out for an hour or more is a real treat. She never has enough days spent at the beach, usually scribbling away at stories with toes wiggling in the sand. Every day at the beach is magical!
Learn more about Marsha at her website: http://MarshaAMoore.com