S
hannon MacLeod has always gone for the wrong type of man. After she drifted from one toxic relationship to the next, her last boyfriend gave her a wakeup call in the worst possible way. With her world shattered, she's sworn off men—especially those of the bad-boy variety.
Cole Walker is exactly the sort that Shannon wants to avoid—gorgeous, tattooed, charming, and cocky. But his rough exterior hides a good man who's ready to find "the one." He's determined to pull Shannon from her self-imposed solitude and win her heart.
As Shannon opens up in the face of Cole's steady devotion, the passion between them ignites to blazing levels. But when Shannon's past comes back to haunt her, her fears may destroy the trust Cole has built between them—and tear them apart for good…
Paperback, 331 pages
Genre: Romance, Erotic Romance, Contemporary Romance
Published October 7th 2014 by NAL (first published January 1st 2014)
What's it About? 
When Shannon escapes her past and finds herself as a secretary at a popular tattoo shop, she meets Cole – who is everything she wants to avoid. She hardens herself to his advances, never giving him a fair chance; convinced he is like all of her abusive exes – solely based on his appearance.
"She's done with bad boys… but he's just too good…"
Cole doesn't know what the new secretary's problem is, nor does he understand why she is so cold to him and nice to everyone else. He does know one thing: he is set on winning her cold heart.
And when he does, passions ignite!
After being burned by her past, can Shannon truly trust Cole?
My Thoughts

I received this book in exchange for a fair, thoughtful, and honest book review. This in no way
swayed my opinion nor rating.
While getting all the product details ready for this review, I realized that this book is part of a series. Fortunately for me,
Echoes of Scotland Street
can be read as a stand-alone. I never felt lost or without answers, despite this being book 5 in the series.
I liked how the Author started this novel with a prologue of Shannon and Cole meeting briefly when they were teens, to later reconnect as adults. Their love was fated to be! Although I was a bit confused at first – I thought, is this a YA? But then I got to chapter one which brought the novel to present time, nine years later when they were in their twenties.
I loved the setting of a tattoo shop and the romance between a tattoo artist and his secretary. I would've liked to hear more about the customers and their tattoos, considering most of their time together was spent in the tattoo shop – but I got my fix when Cole tattooed Shannon. The women coming in vying for Cole's attention were hysterical; as was Shannon's little stunt when his ex showed up. 🙂 I loved the family atmosphere of the tattoo shop and was happy when Shannon was accepted into the fold.
Speaking of Cole and Shannon, I was happy to see them get together. Once she let down her guard, their relationship made sense. Their passions ignited and my book nearly burned up; the scenes were so hot and steamy! And although they were seemingly different, they actually both had a lot in common. They were both lovers of art and cared deeply about the ones around them.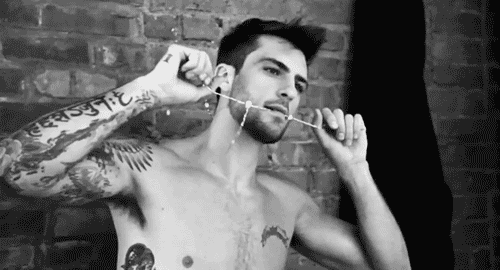 Overall, I enjoyed this author's writing style and the cleverly crafted story about a tattoo artist and his secretary who fall in love, slowly but surely. It was a delightful story with a happily ever after. I would recommend this story to romance fans, and women who have a hankering for tattooed "book boyfriends".
Purchase, AMAZON USA
About The Author
Samantha Young is a Times, USA Today and Wall Street Journal bestselling author from Stirlingshire, Scotland. She's been nominated for the Goodreads Choice Award 2012 for Best Author and Best Romance for her international bestseller ON DUBLIN STREET, Best Romance 2014 for BEFORE JAMAICA LANE, and Best Romance 2015 for HERO. ON DUBLIN STREET is Samantha's first adult contemporary romance series and has sold in twenty-nine countries.