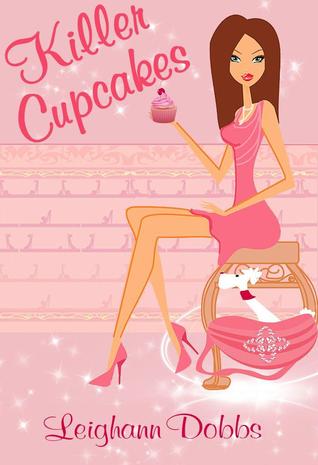 Things are going great for Lexy Baker. She's finally opened her dream bakery, gotten rid of her cheating boyfriend and settled into her grandmother's house with her perky dog Sprinkles at her side.
But her blissful life doesn't last long. When her ex-boyfriend is found poisoned with cupcakes from her bakery, Lexy finds herself in the middle of a murder investigation headed up by her hunky neighbor detective Jack Perillo.
With the help of a gang of iPad toting, would-be detective grandmothers, Lexy decides to take it upon herself to find the real murderer in order to clear her name and get her bakery back in business.
As things heat up on the murder trail, in the kitchen and between Lexy and the hunky detective, it's a race against time to put the real murderer behind bars and get back to baking.
Will Lexy get her man?
Kindle Edition, 146 pages
Published November 2012
Genre: Cozy Mystery, Chick Lit, Romance
Oh, Killer Cupcakes, how much I love thee. Let me count the ways!
1.) The adorable little white dog named Sprinkles. I have two adorable little white dogs, myself, and can always appreciate a protagonist with a little doggy by her side!
2.) CUPCAKES! I totally and completely dig these cozy mysteries because the main character always runs some sort of bakery or coffee shop. If I can't eat cupcakes all day, at least, I can read about them. 🙂
3.) Murder Mystery! Yeah! Give me a good whodunit!
4.) Sexy next-door-neighbor who also happens to be a detective, (I.E.: man-in-uniform), on the murder mystery case. Score!
5.) The Senior-Citizen-Women-Detectives and their IPads! LOL! They blew me away!
6.) And last but not least, Lexy Baker herself! A stiletto wearing, cupcake baker extraordinaire!
Unfortunately, there were some things unrelated to the plot that didn't work for me. This book really could have used an editor, or at the very least, a proofreader or two. I actually edited the book blurb, above, because my Grammarly app was lighting up like a Christmas tree! If you are a stickler to grammar, this might not be the book for you, BUT if you can get past that and appreciate the plot, then I have no doubt fans of cozy mysteries can appreciate this story. 🙂 I know I did and I've already grabbed book 2 in the Lexy Baker Series, Dying for Danish! -Don't you just love the names?
The great news is this novel is available for free on Kindle through Amazon, (USA), and you can grab your copy,
here
!
About The Author

USA Today bestselling author, Leighann Dobbs, discovered her passion for writing after a twenty year career as a software engineer. She lives in New Hampshire with her husband Bruce, their trusty Chihuahua mix Mojo and beautiful rescue cat, Kitty. When she's not reading, gardening, making jewelry or selling antiques, she likes to write cozy mystery and historical romance books.