Nothing interesting happens in the podunk town of Lamison Point—until a freak show rolls through…
When a traveling carnival stops in the sleepy countryside, sixteen-year-old Josie Crowley is psyched to go with her new friend, Freya. But what started out as a fun-filled night of games, candied apples, and ferris wheel rides quickly spirals into a gut-wrenching encounter with one of the carnival attractions.
Once the excitement is over, Lamison is missing one of its residents…
When Freya is nowhere to be found, Josie suspects the carnival has something to do with her disappearance. Her goal to track down the elusive show leads to an alarming revelation—there is no record of it ever existing. And as she digs deeper, Josie is led to a mysterious town with a tainted past—Flocksdale.
Buried in Flocksdale's sick, twisted history is where Josie may find the truth…
Creepy clowns, disfigured freaks, and a terrifying haunted house are the least of Josie's problems…now she has to deal with a group of real-life monsters, otherwise known as the evil Garrett family and new, rising generation of hell-bound freaks.
If Josie is pulled into their world, she may become another member of a carnival of dead girls, where she goes in, and never comes out…

Advanced Release Copy: 210 Pages
Genre: Psychological Suspense, Horror, Young Adult
Expected Publication Date: January 26, 2016, by Limitless Publishing
Series: Flocksdale Files, Book 3
What's It About?
"Maybe the carnival would be fun… Maybe it would be a night I'd never forget."
When Josie is invited by sort-of-friend Freya to the Carnival de Arcanorum, she jumps at the chance of friendship and a night of fun. Things don't go as planned and Josie leaves the carnival sad, depressed, and lonely.
When Freya never returns home, Josie feels guilty for leaving her behind. She sets off, without a word to her father or step-mother, determined to track down her friend and the elusive carnival.
But Josie isn't prepared for where the search leads her…  A town filled with evil, secrets, and possibly Freya.
 A town called Flocksdale.

My Thoughts
Hold on to your seats, folks! Carnival of Dead Girls is one terrifyingly, exciting ride!
Scary Clowns ✔
Missing Girls ✔
Freak Show ✔
A Carnival run by shady people ✔
Violence ✔
Haunted House ✔
Carnival of Dead Girls, the chilling third installment of the Flocksdale Series, by Author Carissa Ann Lynch, is absolutely CREEPTASTIC! I thoroughly enjoyed this dark and scary ride.
The ride may be over, but the powerful conclusion of Carnival of Dead Girls, of the Flocksdale Files series, left me feeling satisfied. I look forward to future works by this talented author.
I really enjoyed the traveling carnival setting of this novel. Often looked down upon because of shady business practices, the carnival added an additional element of suspense. The world building in the novel is phenomenal. I loved the vivid, descriptive scenes about the fair food, the various attractions, and the freak show at the carnival.
But the traveling carnival is merely a backdrop to what is really going on…
I loved Josie. I think her personality is very relatable to a lot of teenagers who just want to fit in with their peers. Her heart was pure gold. Freya was lucky to have such a wonderful friend who cared about her – whethor or not Freya deserved it, is up for debate.
5 Stars!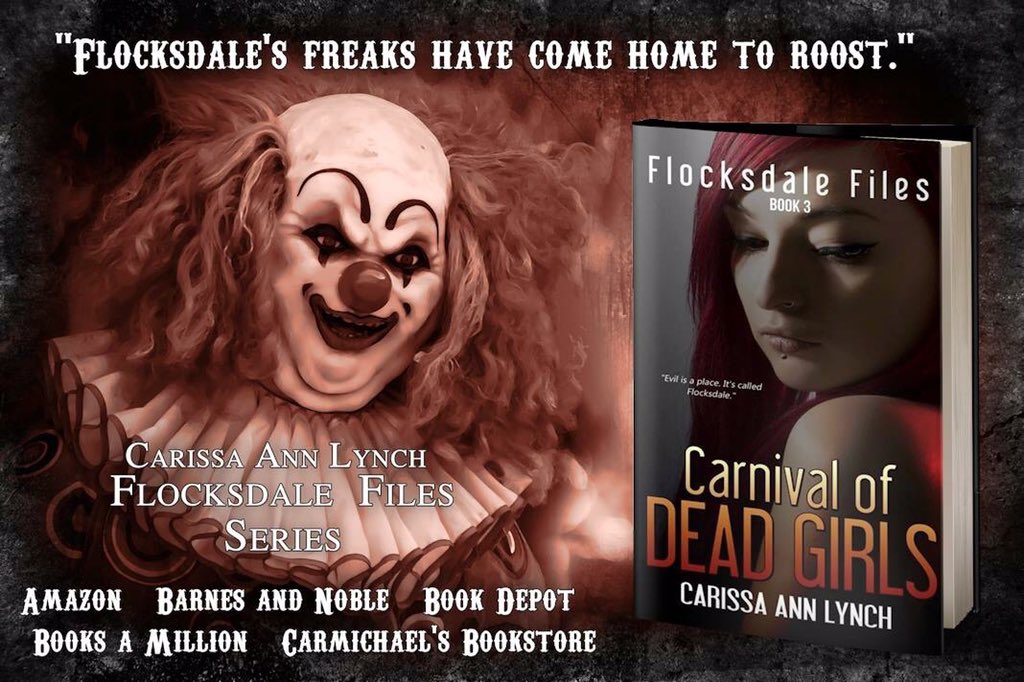 Available for Pre-Order!
Book will be released on January 26, 2016
AWRW Book Review of Have You Seen This Girl?
AWRW Character Interview of Wendi Wise from Have You Seen This Girl?
AWRW Book Review House of the Lost Girls
AWRW Author Interview of Carissa Ann Lynch
House of The Lost Girls Blog Tour
About The Author
Besides my family, my greatest love in life is books. Reading them, writing them, holding them, smelling them…well, you get the idea. I've always loved to read, and some of my earliest childhood memories are me, tucked away in my room, lost in a good book. I received a five dollar allowance each week, and I always — always — spent it on books. My love affair with writing started early, but it mostly involved journaling and writing silly poems. Several years ago, I didn't have a book to read so I decided on a whim to write my own story, something I'd like to read. It turned out to be harder than I thought, but from that point on I was hooked. My first and second books were released by Sarah Book Publishing: This Is Not About Love and Grayson's Ridge. I'm a total genre-hopper. Basically, I like to write what I like to read: a little bit of everything! I reside in Floyds Knobs, Indiana with my husband, three children, and massive collection of books. I have a degree in psychology and worked as a counselor. —Goodreads Author Bio