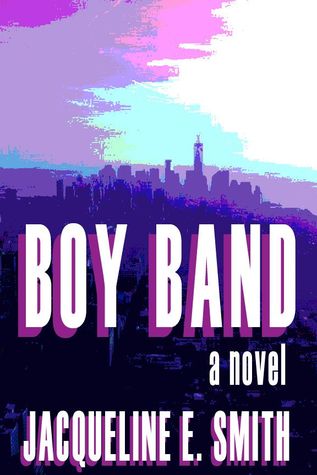 It's weird enough being in love with your best friend. It's even weirder when the rest of the world is in love with him, too.
Sam Morneau is Melissa Parker's best friend. He's also a member of The Kind of September, basically the hottest boy band on the planet.
After two and a half years, Mel is all too familiar with the day-to-day occurrences that come with being a member of the band's inner circle, including hectic schedules, passionate fans, and gossip-mongering celebrity girlfriends.
Now, with the release of the group's third album just weeks away, their lives have never been crazier and Mel is doing everything she can to keep up, all the while trying to cope with the ridiculous rumors that follow the band everywhere they go and pretending that she isn't harboring a secret and hopeless crush on Sam.
Published April 21st 2015 by Wind Trail Publishing (first published March 26th 2015)

Print Length: 207 Pages
Genre: Young Adult, Teen, Romance, Contemporary
🎶 What's It About? 🎶
"He's the guy you didn't want to fall in love with because you know that if he ever figured it out, things might not be the same between you, and you love the way things are."
The Kind Of September is an extremely popular boy band, consisting of members Josh, Cory, Oliver, Jesse and last but not least, Sam. Melissa Parker is their unofficial design intern and has been along for the ride since the beginning. Mostly, they have all been friends since elementary school.
Mel is in love with her best friend, Sam, of The Kind Of September, but is afraid to cross that line with him. What if it changes their relationship? What if he doesn't feel the same?
She follows the guys across the country for major appearances, concerts, interviews, and album release parties, all while keeping her secret crush to herself.
"It's like saying goodbye to a dream that was never mine in the first place. Love is the worst."

🎶 My Thoughts 🎶
While not a fan of boy bands or pop music in general, I really, really enjoyed the characters of the band, The Kind Of September, and the people who surrounded them. My favorite character was Mel Parker and I'm glad the point of view was through her because she had some really funny thoughts inside her head! I loved her deadpan sense of humor!

I also really enjoyed the dialogue between the characters, especially between the band members. They were hysterical! I liked them all the better because even though they were wildly popular and successful, they were still down to earth and acted like regular guys.
Every chapter began with song lyrics which I thought was a nice touch. My favorite song was "Snowlight". I read it over and over again. I love how the author incorporated song lyrics into the book!
And I am so glad that I finished book 1 on book 2's release day because it ended with one mega cliff-hanger! I cannot wait to start book 2, Backstage, to find out what happens next!!
Even though the characters are very early 20's, the book has a young-adult feel to it and can be enjoyed by fans of both young adult and new adult books. I think young girls would really enjoy this novel, as well as adults who enjoy YA! I thoroughly enjoyed this delightful novel and I'm giving it 5 stars!

In the interest of full disclosure, I received a copy of Boy Band by the author in exchange for a fair, honest, and thoughtful book review. This in no way swayed my opinion or rating.

🎶 Purchase Boy Band, by Jacqueline E. Smith 🎶
🎶 Purchase Backstage, by Jacqueline E. Smith 🎶

🎶 New Release! Backstage, Book 2 of Boy Band 🎶
Melissa Parker might just be the luckiest girl on the planet.
She's just turned twenty-one.
She's best friends with The Kind of September.
And she's dating Sam Morneau, everyone's ultimate celebrity crush. Of course, no one is supposed to know about that.
As it turns out, no one is supposed to know about a lot of things that happen behind the scenes of life with the planet's most popular boy band. Now, what should be Happily Ever After for Mel and Sam is turning into a series of secrets, manipulation, and potential heartbreak… Just in time for The Kind of September's world tour.
Print Length: 205 pages
Publisher: Wind Trail Publishing (December 6, 2015)
Genre: Teen, Young Adult, New Adult, Romance, Contemporary
🎶 About The Author 🎶
Jacqueline Smith was born and raised in Dallas, Texas. She attended the University of Texas at Dallas, where she earned her Bachelor's Degree in Art and Performance in 2010. Two years later, she earned her Master's Degree in Humanities.
Along with writing and publishing, Jacqueline loves photography, traveling, and nature.