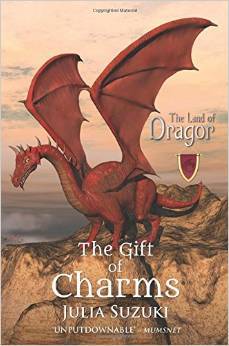 "Julia Suzuki's Award Winning 'Land of Dragor' series will entrance readers of any age. The Gift of Charms, the first volume of Julia Suzuki's series is an epic fantasy story set to enchant and entertain…"
In a secret land, far away from the habitation of man, dwell the world's remaining dragons — hoping the dragsaur beasts have vanished forever. Here they try to live their daily lives, but all is not well and their talents are fading.
Things change, however, when, from a strange egg, Yoshiko is born – a dragon with a unique destiny.
Great adventure lies ahead as many challenges must be overcome, leading to a dangerous mission to the human world in attempt to return to the clans their missing magic!
Can Yoshiko make it in time?

Paperback, 288 pages
Published September 4th 2014 by Dino Books
Genre: Children's, Middle Grade, Fantasy, Fairytales, Adventure
Goodreads
British Arts Council Award (2014)
What's It About?
A long, long time ago, many great creatures roamed the earth. Then, dragsaurs, a dinosaur/dragon super species, became extinct with the dinosaurs. Fortunately, the dragons managed to survive.
Unfortunately, the dragons became slaves to the humans, till the great rebellion, when they all fled to the land of
Dragor…
One day, a dragon couple named Ketu and Kiara had a dragon baby, who was born from a strange, multi-colored shell. Rumors spread, and the clan's Hudrah arrived to take the baby away. However, she was paid off, and she held her tongue, despite her beliefs that the dragon hatchling, known as Yoshiko, was cursed.
The Gift of Charms is Yoshiko's coming-of-age story, and his destiny to save all of the dragon clans by restoring their abilities!
"There may be greatness ahead for Dragor… if a dragon can master his gifts."
My Thoughts
I worried that since this is a middle grade/children's novel, that I wouldn't like this story or that I would find it boring. I couldn't have been any more wrong in my thoughts. I couldn't believe how fast this story pulled me in!
This is a tale of a dragon who is bullied for being different, thought to be cursed, and is sent on a dangerous mission that only he can complete. He is a dragon who you root for! What fascinated me was how relatable the Author made the dragons. They had families, attended school, and had rules (commandments) to abide by. I loved the map at the beginning of the book, and I think kids would enjoy this feature!
Another thing that I enjoyed about this book was how cleverly the author intertwined the history of the dragons with Yoshiko's destiny. I loved reading about the history of dragons, and how they came to be in Dragor. I even found the different clans fascinating.
I also enjoyed the steady pace of The Gift Of Charms. I think it is easier for kids to stick with a book when the pace is steady, and there aren't any lulls in the story. I highly recommend this novel to preteens, and adults who love dragons! 🙂
***I received a copy of this novel in exchange for a fair and honest book review. This in no way swayed my opinion or rating.
Purchase


About The Author
Julia Suzuki is a British author of children's and YA literature.
She is represented by the agency 'Authors Abroad'.
Julia is known for her unique style; threading together adventure and suspense in a magical, epic settings, with stories that are full of powerful messages. Through her ability to touch the emotions, Julia climbs into the reader's, soul bringing about excitement, hope and promise, as well as new ways of thinking.
Media/bloggers please vpatis.juliasuzuki@gmail.com to request a review copy.
British Arts Council Award 2014
Patron of Reading 2014
Praise for The Land of Dragor:
'Action packed. This book is on fire."
DAVID LLOYD, SPORTS ENTREPRENEUR
"This is a classic in the making – a mythical magical fable in the tradition of Tolkein and JK Rowling that will appeal not only to children but their parents as well! Julia Suzuki is one of the brightest new talents for years."
PHIL DAMPIER, ROYAL COMMENTATOR & SUNDAY EXPRESS JOURNALIST
"A beautifully presented, wonderfully unique debut."
THE SUN NEWSPAPER
'Fantasy fans will warm to this tale of how being different can be a strength rather than something to be feared.'
DAILY MAIL