Janine Harris never really thought about homeless people. She barely even notices them as she passes them by on her way to work in downtown Washington D.C. All Janine can focus on is the shambles of her own young life, afraid that she will never be able to get past the painful mistakes she has made.
However, all of that changes on a snowy evening in December when Janine unexpectedly finds herself alone with Vera, an old, homeless woman who seems to need her help. Now Janie wants to know what could have possibly happened to Vera to leave her so broken and alone.
As Vera shares her life story with Janine, the two women form an unusual bond and begin a journey that changes both of their lives forever. Reluctantly, they each confront their own past and in the process, discover the true meaning of sacrifice, family and love. Although in the end, they learn that they must face the most difficult challenge of all – forgiving themselves.
Paperback, 254 pages
Published May 5th 2014 by Juania Books LLC
Genre: Women's Fiction, Social Issues
What's It About?


God Doesn't Love Us All The Same
is an emotionally engrossing novel about a young banker who callously steps over a homeless woman every morning on her way to work. One day she takes the time to speak with her. After a few more discussions, she learns her entire life story, and becomes closer to this homeless woman than she ever would've thought. Her discussions with this woman change the path of her life, and her attitude towards people in general.
My Thoughts:
Finally the weeping has stopped! I cried throughout most of this novel. Can I please give it 10 stars? Because it was THAT GOOD!
God Doesn't Love Us All The Same is a story about racism, stigma, familial love and devotion, and the power of forgiveness. It is a story that will have you crying, and then smiling ear to ear. I was very emotional reading this book.
I hated Janine at the beginning of the story. She was self absorbed and unfeeling to others. I couldn't believe the turnaround she made by the end of the novel. It's amazing how a chance meeting with someone (Vera, the homeless woman), can influence, and ultimately change your life. –And I think that this is the underlying message of this story.
Noteworthy Characters:
Janine: College drop-out/banker who lives with her sister. She is miserably confused, and just wants a do-over.
Vera: Multi-racial, elderly homeless woman who doesn't fear death… She fears seeing God disappointed with her.
Robert Tillery Sr: Vera's wealthy, racist, and influential white grandfather.
Sara Tillery: Vera's white grandmother.
Vicki: Janine's sister.
Hattie: Vera's black mother. She feels helpless under the control of the Tillerys.
Robert Tillery Jr: Vera's deceased white father.
Clyde Thomas: Hattie accepts a marriage proposal from Clyde, who is 20 years her senior, as a way out from the control of the Tillerys.
Marianne: Vera's daughter
Recommendation:
Anyone who enjoy stories centered around a woman's experience, and/or anyone who enjoys the drama of societal issues, (and this book has PLENTY).
Rating:

***In interest of full disclosure, I received an e-copy of God Doesn't Love Us All The Same, by the author, in exchange for a thoughtful, fair, and honest book review.
Purchase:
Did my review pique your interest? Purchase a copy of God Doesn't Love Us All The Same, on Amazon, here!
About The Author: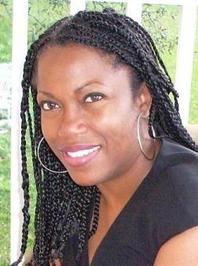 "As a writer I feel as if I walk two distinct paths. On one path, I am drawn in the direction of non-fiction family pieces. I believe that if we can understand our family relationships, we can get a better understanding of who we are as individuals.
On the other path, I enjoy the creativity involved when plotting out different fictional stories. As the characters go through their ups and downs, it's comforting to know that on some level, it will all work out for them. My central characters always carry the lesson that sometimes to grow, you have to "let go."
Nina Guilbeau is the Siblings Editor for BellaOnline where she writes weekly parenting articles. She is the winner of the Royal Palm Literary Award and author of Too Many Sisters, Birth Order and Parenting with writing credits in short story anthologies From Our Family to Yours and Chicken Soup for the Soul. —Goodreads Author Bio