Way Back Wednesday is a Book Meme that I created with the aim to write mini book reviews on books I have read in the past, that left an impression on me.
You know what kind of books I am talking about… The ones that you have read multiple times, and they still bring you nostalgia. Books like these are the reason you enjoy reading.
So grab that old-dusty-yet-loved-book off the shelf, glance it over, write a mini review, and join in with me on Wednesdays! EVERYONE is welcome to participate.
Don't forget to link back! 😉
RULES:
1.) Discuss a book you read in the past that left an impression on you. You can write a condensed review if you prefer.
2.) Tag your post as "Way Back Wednesday" and include this button: 
3.) Link back to my blog, and this page.
4.) Include instructions, (copy & paste), for others to participate. 🙂
Enjoy!
Today's Way Back Wednesday post is dedicated to one of my favorite books, titled Bitter Is The New Black, by Jen Lancaster.
This is the story of how a haughty former sorority girl went from having a household income of almost a quarter-million dollars to being evicted from a ghetto apartment… It's a modern Greek tragedy, as defined by Roger Dunkle in The Classical Origins of Western Culture: a story in which "the central character, called a tragic protagonist or hero, suffers some serious misfortune which is not accidental and therefore meaningless, but is significant in that the misfortune is logically connected."
In other words, the bitch had it coming.
Bitter Is the New Black: Confessions of a Condescending, Egomaniacal, Self-Centered Smartass, Or, Why You Should Never Carry A Prada Bag to the Unemployment Office
(The titles makes me chuckle)
Paperback, 400 pages
Published March 7th 2006 by NAL Trade
Genre: Women's Fiction/Chick Lit, Autobiography, Memoir, Humor
"Well they were on sale, which should make you happy. As for color, they're… well they're actually leopard print and…" My mother suddenly disappears. "Mom? Mom? Mother, where are you? Mom! MOM! It's just a pair of shoes. STOP TRYING TO DROWN YOURSELF!"

I absolutely loved this book. Jen Lancaster's snarky view on life is hilarious, to say the very least, but if you are super liberal, offended by swear words, and/or the occasional racist comment, this may not be the book for you. (I will admit, after the first page, I thought that this book was going to be a DNF due to her unbelievable rhetoric).
However, it might be the book for you, if you like to see people like this pushed off their high horse. And oh boy…. was Jen ever pushed.
The irony of Jen's situation is what makes this memoir so memorable. It wasn't that I wanted to see her fail, but it was entertaining to watch from a safe distance. Jen chronicled her life on a blog, which she then self-published as a book. (Yes bloggers, she was once just like us! Blogging away her life for everyone to see!)
And I think that is why I enjoyed the journey. "Jen the blogger" appealed to me. She made MONEY from this. Isn't that every blogger's dream?
Jen has gone on to write several more books, all of which I have added to my TBR list. If they are anything like Bitter Is The New Black, they ought to be a smashing hit with yours truly!
About The Author: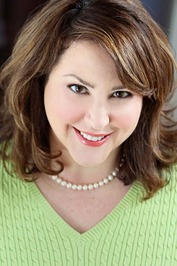 Jen Lancaster is the author of her own memoirs including: Bitter is the New Black, Bright Lights, Big Ass, Such A Pretty Fat, Pretty in Plaid, My Fair Lazy, and the newest: Jeneration X.