Top Ten Tuesday is an original feature/weekly meme created at The Broke and the Bookish. Each week they will post a new Top Ten list that one of the bloggers there at The Broke and the Bookish will answer. Everyone is welcome to join!
If you haven't had a chance to pick up a Women's Fiction novel, yet… what the heck are you waiting for?! Maybe you haven't read the RIGHT women's fiction novel. Like all genres, there certainly are a few doozies!
Women's Fiction, also known as Chick Lit, is an umbrella term used to describe stories that are marketed towards female readers. Chick lit focuses on women's life experiences.
I would like to introduce you to my favorite women's fiction novels that I can guarantee you will turn you into a lover of said genre. 🙂 So, without further adieu, I present you my Top Ten Favorite Women's Fiction Novels!
1.) Sex, Murder, and Double Latte, by Kyra Davis by 
Possibly my favorite book, Sex, Murder, and Double Latte "packs a bigger punch than a venti latte at Starbucks!" This story turned me on to Women's Fiction.
Thriller scribe Sophie Katz is as hard-boiled as a woman who drinks Grande Caramel Brownie Frappuccinos can be. So Sophie knows it's not paranoia or post-divorce, living-alone-again jitters, when she becomes convinced that a crazed reader is sneaking into her apartment to reenact scenes from her books. The police, however, can't tell a good plot from an unmarked grave.
When a filmmaker friend is brutally murdered in the manner of a death scene in one of his movies, Sophie becomes convinced that a copycat killer is on the loose — and that she's the next target. If she doesn't solve the mystery, her own bestseller will spell out her doom. Cursing her grisly imagination (why, oh, why did she have to pick the ax?), Sophie engages in some real-life gumshoe tactics. The man who swoops in to save her in dark alleys is mysterious new love interest Anatoly Darinsky. Of course, if this were fiction, Anatoly would be her prime suspect . . .
Seriously, read this book!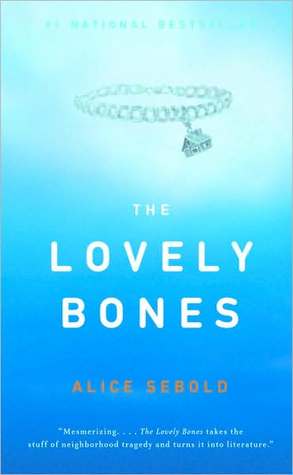 2.) The Lovely Bones, by Alice Sebold
I get CHILLS just looking at this cover! That is how GOOD this story is!
The Lovely Bones is the story of a family devastated by a gruesome murder — a murder recounted by the teenage victim. Upsetting, you say? Remarkably, first-time novelist Alice Sebold takes this difficult material and delivers a compelling and accomplished exploration of a fractured family's need for peace and closure.
Heart wrenching emotions guaranteed between the pages of this book…
3.) The Husband's Secret, by Liane Moriarty
"The trouble with the truth is that it can change everything…"
My Darling Cecilia,
If you're reading this, then I've died . . .
Imagine your husband wrote you a letter, to be opened after his death. Imagine, too, that the letter contains his deepest, darkest secret – something so terrible it would destroy not just the life you built together, but the lives of others too. Imagine, then, that you stumble across that letter while your husband is still very much alive . . .
Cecilia Fitzpatrick achieved it all – she's an incredibly successful business woman, a pillar of her small community and a devoted wife and mother. Her life is as orderly and spotless as her home. But that letter is about to change everything, and not just for her: Rachel and Tess barely know Cecilia – or each other – but they too are about to feel the earth-shattering repercussions of her husband's devastating secret.
Words cannot express how much I enjoyed this novel.
4.) Once Upon a Nervous Breakdown, by Patrick Sanchez
"When having it all becomes too much…"
Patrick Sanchez delivers a hilarious, moving, and all-too-true snapshot of a generation of women stretched between extremes, frazzled by time and tides, and determined to make everything work without losing themselves in the process.
I found Once Upon a Nervous Breakdown at my local library and loved the cover so much that I had to check it out! I am so glad that I did because this book is EXCELLENT! You'd be surprised at some of the gems you can find at the library! Such a great resource! USE IT! 🙂
5.)
Bitter is The New Black, by Jen Lancaster
You will either love Jen or hate her… I, of course, love her! Bitter is the New Black is a memoir, and although not a fictitious story, it is still very much "chick lit".
This is the story of how a haughty former sorority girl went from having a household income of almost a quarter-million dollars to being evicted from a ghetto apartment… It's a modern Greek tragedy, as defined by Roger Dunkle in The Classical Origins of Western Culture: a story in which "the central character, called a tragic protagonist or hero, suffers some serious misfortune which is not accidental and therefore meaningless, but is significant in that the misfortune is logically connected."
6.) Charlie All Night, by Jennifer Crusie
Also a romance, Charlie all Night is a hilarious novel by Jennifer Crusie! Guaranteed to make you giggle, all night! 😉
And the title isn't what you think… Or at least wasn't what I thought. 🙂 ***Hey, when you read as many smutty romance novels as I do, you just kinda think these things!!! 😉
7.)
Sprinkle with Murder, by Jenn McKinlay
Also a cozy mystery, Sprinkle With Murder is an absolute treat! Another great library find!
Melanie Cooper and Angie DeLaura are finally living out their dream as the proud owners of the Fairy Tale Cupcakes bakery. But their first big client is a nightmare. She's a bridezilla who wants 500 custom cupcakes for her wedding.
When Mel stumbles upon the bride-to-be dead-by-cupcake, she becomes the prime suspect. To save themselves and their business, the ladies need to find the real murderer, before the cupcake killer ices someone else.
8.) Bake Sale Murder, by Leslie Meier
Another excellent cozy mystery/women's fiction novel!
Ever since local developer Fred Stanton and his wife, Mimi, built five modular homes next door to Lucy Stone's farmhouse, life just hasn't been the same. With Mimi complaining about everything from the state of Lucy's lawn to another neighbor's lovable dog, quaint Tinker's Cove, Maine, is now entangled in cul-de-sac politics and backstabbing. And when Mimi doesn't show up for her shift at The Hat and Mitten Fund bake sale, the scent of burnt sugar leads Lucy to a shocking discovery: Mimi, face down on her kitchen floor—with a knife in her back.While the police start their investigation, Lucy gets busy writing up the murder for the local Pennysaver—and following a few leads of her own. Lucy knows the women in her neighborhood didn't like Mimi, but they certainly didn't want her dead, right??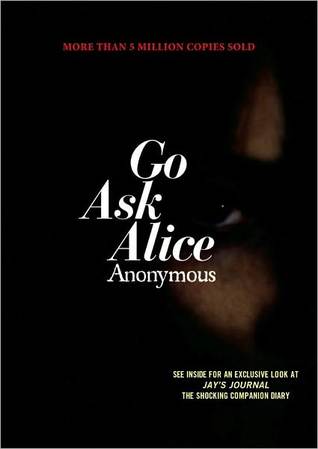 9.)
Go Ask Alice
, by Beatrice Sparks
With more than 5 million copies sold, Go Ask Alice speaks for itself!
"Anonymous" wasn't quite yet a woman when she wrote these diary entries, so this book can also be classified as 'young adult'.
"Claimed to be taken from an actual diary, the story caused a sensation when published, and remained in print as of 2014. Revelations about the book's origin cast doubt on its authenticity and factual accounts, and the publishers have listed it as a work of
fiction
since at least the mid-late 1980s. Although it is still published under the byline "Anonymous", it is largely or wholly the work of its purported editor, Beatrice Sparks. Some of the days and dates referenced in the book put the timeline from 1968 until 1970." –Wikipedia
10.) A Very Good Life, by Lynn Steward
A Women's Fiction novel I read for review, A Very Good Life turned out to be a very good book!
Set in 1974, A VERY GOOD LIFE recreates a unique time in New York City when women like Dana hungered to have it all. From lunch at Cipriani's to the annual Rockefeller Center holiday tree lighting ceremony, from meetings with business icons like Estee Lauder to cocktail receptions with celebrity guests like legendary Vogue editor Diana Vreeland, Steward's intimate knowledge of the period creates the perfect backdrop for this riveting story about a women's quest for self-fulfillment. A VERY GOOD LIFE is bound to become a beloved favorite of readers everywhere!
Thanks for taking the time to visit! Tell me, have you read any of these books? 🙂